SMS API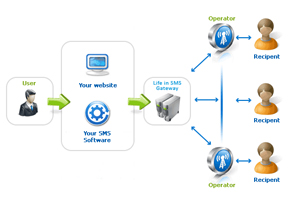 URL SMS is genuine & leading Web Based SMS service provider in India. We provide various interfaces like Web, Desktop, HTTP, SMPP, SMTP, Database connectivity for SMS delivery. We also provide extensive delivery report. Our model works on Reseller & Customer basis.
Web Interfaces are designed to suite needs of our Resellers as well as their customers giving GUI which gives them ease to use SMS services.

Scheduled SMS, Unlimited records in group, Multiple group selection for contact, Duplicate checks while delivering, Delivery Report, Ready SMS Templates, Multiple Sender ID's, etc.
You can be downloaded from Customer Interface. Resides silently in System Tray Icon, gives all facilities available in Web Interface including Delivery Report. It also has some additional facilities for Share Brokers, Commodity Traders, Recruitment Consultants, etc. We have plans to add many more application modules helping various segments of businesses.
We provide HTTP, SMPP, SMTP, Database connectivity for SMS delivery. Our API's are optimized for performance & hence ready to use for High Volumes for instant messaging.
We can provide Short Code (e.g. 56161) OR Long Code (e.g. 8010161916) to be used as Two Way SMS. Our application provides you ready to use facilities for Surveys, Poll responses, Order Collection, etc. We can also develop custom application as per customers need.