Payment Gate Way Integration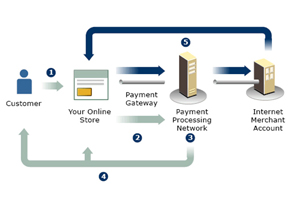 If you are into e-ecommerce or planning to enter into e-commerce then payment gateway is something you cannot avoid. A payment gateway is an e-commerce application service provider service that authorizes payments for e-businesses and online retailers. It is the equivalent of a physical point of sale terminal located in most retail outlets. PayPal is an online money transfer system and is one of the most popular payment gateway services available on the web today. PayPal is a payment method that enables any individual or business with an email address to safely, easily and quickly send and receive payments online.

Payment gateways protect credit card details by encrypting sensitive information, such as credit card numbers, to ensure that information is passed securely between the customer and the merchant and also between merchant and the payment processor.

DigiUncle brings to you payment gateway integration services to integrate payment gateway if you want to take your website to higher level. We provide payment gateway solutions according to your online store requirement that facilitates transaction among businessman, his customer and the financial body.
If you are having your e-commerce website running or else planning to have an e-commerce website then payment gateway integration can act as lifeline for your online business. It is an essential part as without this, payment of goods and services purchased online cannot be made. Besides providing the chief benefit of facilitating receipt of online payments, it offers other benefits too like safety and security. Payment gateway is of immense help because as-soon-as the payment is made you and your customer gets instant information that the payment has been processed making the procedure transparent. It allows you, the merchant, to accept and process credit card transactions and have the money collected end up in your bank thus easing the whole process of payment collection.
It saves time and effort for collecting payments and Reduces the geographical barrier in e-commerce since the merchants can accept credit card payments from customers located anywhere in the world in seconds.
Payments can be collected anytime and anywhere. You only need to have internet access.
Helps customers to know instantly whether their credit card payment has been accepted or not.
Saves the hassles of payment through cheque and also the time taken for cheque clearance.
It secures the client's information that is made available during a credit card transaction.
Thus, buyers can enjoy a better and safer online shopping experience with the right kind of payment gateway of the website. Such systems have greatly contributed to the growth of e-commerce.