Business IT solutions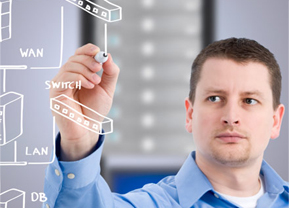 The prerequisite in today's business environment is the facility to communicate effectively internally with your employees and externally with your partners/business associates and customers. This gives rise to the need of intranet and extranet.

An "intranet" is the generic term for a collection of private computer networks within an organization. This network is not available to the outside world.

An "extranet" is an extension of the information system of the company to its partners located outside of the network.

If you are in search of trustworthy and speedy intranet or extranet service then DigiUncle Private Limited is the right choice.

The intranet services available with us will improve communication within your enterprise and limits errors as a result of poor flow of information. It helps you to share information with the employees according to their need and requirement. Our intranet solution is based on three-tier architecture, comprising:
One or several application servers (middleware): a web server which makes it possible to interpret CGI, PHP, ASP or other scripts and translate them into SQL queries to query a database.
Our extranet solution, on the other hand, can be used by the companies to exchange large volumes of information using EDI, share product catalogs exclusively with wholesalers or those "in the trade", and improve company efficiency and output by automating procedures that were done manually in the past a. Extranet services thus helps in improving relationship with customers and trading partners. An extranet requires network security. These can include firewalls, server management, the issuance and use of digital certificates or similar means of user authentication, encryption of messages, and the use of virtual private networks (VPNs) that tunnel through the public network.